Annual & Community Reports
2014/15 CareFirst BlueCross BlueShield Report to the Community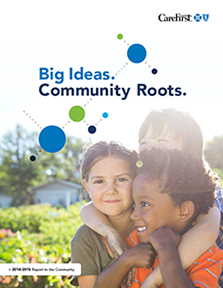 CareFirst's mission is to provide affordable and accessible health insurance to our members in Maryland, Washington, D.C. and Northern Virginia.
In 2015, CareFirst:
Contributed nearly $40 million to community initiatives designed to increase the accessibility, affordability, safety and quality of health care services throughout the region.
Continued its commitment to community-based health care, investing $6.9 million to support safety net clinics serving more than 279,000 people.
Advanced and support innovative programs and initiatives that will produce a sustainable and positive impact on health care delivery.
---
Download 2014/15 Community Report
To obtain a copy of an annual report listed above, please include your mailing address in an e-mail to Media Relations.

Viewing and printing this document requires Adobe Acrobat Reader, which can be downloaded free from the Adobe site.