Charlie's Story
Midway through Laura's pregnancy, doctors discovered her baby would be born with multiple congenital heart defects including a rare condition, hypoplastic left heart syndrome, affecting blood flow through the heart. The baby's health was further compromised by a condition known as heterotaxy syndrome in which certain organs form on the opposite side of the body. In baby Charlie's case, the two main arteries leaving the heart and the atriums were also reversed. Because his conditions were life-threatening, Charlie had to undergo surgery as soon as he was born and again when he was 2 ½ months old. He spent nearly four months in the cardiac intensive care unit (CICU).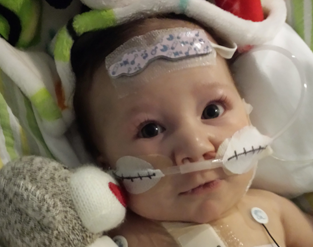 When his parents were finally able to bring Charlie home, he had a feeding tube and was taking six medications for his heart, blood pressure and clotting issues. At the recommendation of his doctors, Charlie stayed home for the first year instead of attending daycare to help guard against germs and infections. He had frequent doctor appointments; seeing seven different specialists including a cardiologist, neurologist and physical therapist. He remained on a feeding tube and his medical needs were such that his family didn't travel or venture too far from Children's Hospital—already an hour and half away from their home.
Charlie's Care Coordination Experience
"She made us feel so comfortable. She was just a huge help right away."
Although Charlie's parents were practiced at taking care of his needs, Laura was pregnant with their second child and also working part-time when Charlie's pediatrician recommended the family consider CareFirst's chronic care coordination services. Through this program, registered nurses provide one-on-one support for patients with complex health needs. At first Laura was reluctant to add yet another medical person to the list of people caring for Charlie, but she agreed to meet the nurse, Carrie, at Charlie's next appointment. Laura recalls after meeting Carrie, "She made us feel so comfortable. She asked, 'What can I do to help, can I call hematology, can I call genetics?' She was just a huge help right away."
Carrie helped Charlie's parents prepare him for his upcoming surgeries, coordinated referrals and doctors' appointments. She put an action plan in place to establish goals, educate on developmental milestones and recognize when to call the doctor versus go to the hospital. She called weekly to evaluate Charlie's progress and followed up after every doctor appointment. In preparation for removal of his feeding tube, Carrie investigated different methods to get Charlie to eat and drink on his own. When the time came to take it out—something Laura was anxious about— Carrie was on hand to answer questions and ensure there were no complications.
A nurse for more than 20 years, and a working mother herself, Carrie relates to and is passionate about her patients. She uses her personal experience to help families so they can live the best possible lives. She says, "My goal is to help people not only get better but to see them become independent in their care and to have as much of a normal life as possible."
"We finally felt like a normal family. Carrie has just been wonderful and such a blessing to our family. I am so glad I said yes to the program."
Charlie's Outlook
Today, Charlie attends daycare and is thriving. He is an adorable bundle of energy who talks, walks, runs and eats like any normal 2 ½ year old. Recently, with Carrie's support, the family was confident enough to schedule their first family vacation in over two years. Carrie gathered all phone numbers and emergency contact information and instructed them on signs and symptoms to watch out for. The trip was a turning point and Laura says, "We finally felt like a normal family. Carrie has just been wonderful and such a blessing to our family. I am so glad I said yes to the program."