CJ's Story
CJ, a CareFirst employee and member, is a registered nurse with a complex medical history including chronic Lyme disease and lifelong digestive issues. Despite this, she is an Ironman triathlete who also trains young athletes. During a summer trip to Maine, she was sidelined by a flu-like illness accompanied by worrisome neurological symptoms.
Once home, she scheduled visits with a neurologist and her primary care physician (PCP) who participates in CareFirst's Patient-Centered Medical Home (PCMH) program. During her PCP visit, her doctor suggested CJ participate in CareFirst's chronic care management program. The program provides care coordinators—all registered nurses—who work one-on-one with members to help them better manage their chronic conditions and improve their health.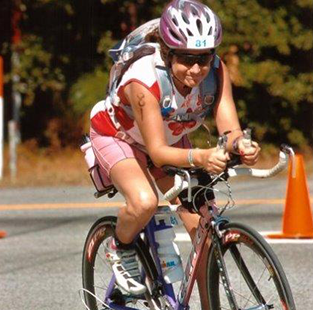 CJ's Care Coordination Experience
"The PCMH Program has truly changed my life. I'm thankful to be able to speak out as a program advocate and as an RN, I'm proud to be able to refer others to the program as I know first-hand how incredibly helpful it has been for me."
CJ began working with nurse coordinator, Jaclyn, who, in collaboration with the PCP, created a care plan to help stabilize and address the most critical health concerns— extreme fatigue, Lyme disease flare-ups, and declining cognitive function. Jaclyn assessed many barriers including CJ's pain management regimen, her nutrition, and even her ability to chew and swallow in order to coordinate speech therapy if necessary. Jaclyn educated CJ on alternative treatment options and identified local support groups. She also evaluated tools to help CJ overcome difficulties at work.
One of the most impactful things Jaclyn has been able to do is advocate for CJ as they attempt to unravel the mystery of her disease. For years, CJ has experienced frustration with varying diagnoses and differing specialists' opinions regarding her illness. CJ emphasizes, "My complicated illnesses are not easily handled by a PCP, and specialists disagree…causing me to keep searching for a doctor who truly understands the coordination of the multiple conditions I have. Now that the specialists are part of the care plan and have been carefully selected by my doctor, PCMH nurse, and myself—AS A TEAM—I can get specialty evaluation and care by the appropriate doctors."
Jaclyn researches tirelessly to find the missing piece of the puzzle that might help to solve CJ's illness. She attends her doctor appointments and helps her deal with the daily challenges that arise due to her condition. From palsy/fine tremors, to Dyslexia, CJ is constantly tackling new symptoms all with Jaclyn's support. "The PCMH Program has truly changed my life. I'm thankful to be able to speak out as a program advocate and as an RN, I'm proud to be able to refer others to the program as I know first-hand how incredibly helpful it has been for me."
CJ's Outlook
Although she continues to struggle with uncertainty, CJ is grateful for Jaclyn's assistance, "Just touching base with Jaclyn every week, I finally feel like I have a partner in my own health. It has taken the isolation of having a severe chronic illness and eradicated it. The feeling of being alone when you are sick is a terrible one. To not have that anymore is such a gift."