Joseph's Story
Like many Washingtonians, Joseph relies on public transportation for his daily work commute. The only hitch in his routine is a notoriously dangerous intersection.
One Friday evening, nearly home and rushing to cross the hazardous intersection, he was one step from the curb when the light turned green. Before he knew what was happening, Joseph was hit by a car which sent him flying through the air and landing almost 20 feet away. Although he remained conscious, Joseph sustained numerous injuries and broken bones including his leg, arm, fingers, wrist, scapula and two ribs. The most extensive injuries to his arm and leg required surgery, pins and plates to repair. He spent a solid week in the hospital recovering.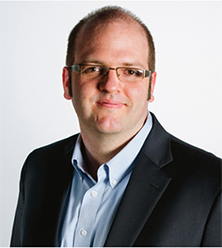 Joseph's Care Coordination Experience
During his recuperation, Joseph received a call from Jen, a CareFirst nurse case manager. Case managers provide one-on-one assistance, encouragement and support for members faced with serious diagnoses or extreme medical events. Case managers also work with members to review benefits, help choose a Primary Care Provider (PCP) if they don't already have one, and connect them to other medical services they may not otherwise be aware of. Joseph remembers Jen told him she was "here to help him get better and provide whatever he needed." He recalls, "That blew my mind. You don't associate that type of statement with your health insurer."
One of the main obstacles Joseph faced was his transition from the hospital to a rehabilitation facility. During his time in the hospital, Jen stayed in contact with him as well as the facility discharge planner to coordinate a safe discharge plan that included follow up with a comprehensive home care program offered by CareFirst. Joseph says, "It was an extremely stressful time in my life but thanks to my nurse, the next thing I knew I was in a better facility that was more geared toward helping me regain my independence."
After spending three weeks in the rehab hospital, Joseph went home. However, both his arm and leg were incapacitated for three months, leaving him wheelchair-bound and making getting around his house, and especially the stairs, challenging. Jen helped coordinate in-home physical and occupational therapy while he continued his recovery.
"I am increasingly whole only because of how seamlessly the program works and how customer-oriented CareFirst is. I plan to be a member for the rest of my life."
With his body on the mend, Joseph turned his attention to the anxiety he faced since the accident.
"The harder part of my recovery has been the PTSD associated with the accident, "he says, "I feel like not losing consciousness heightened the issue and I found it even difficult to drive by the intersection where the accident happened."
Joseph wasn't sleeping and was plagued by nightmares. The anxiety started to impact his career, causing him to cancel an important international flight at the last minute. Jen referred Joseph to another service offered through CareFirst, connecting him to Rosemarie, a Behavioral Health Care Coordinator (BHCC).
BHCCs work with members to set and achieve goals like individualized milestones based on their current situation or needs. BHCCs also assist with all preauthorization or referral requirements. They are familiar with networks and benefits and connect members with the appropriate providers for their specific needs.
In Joseph's case, Rosemarie helped him find a provider specializing in post-traumatic stress disorder (PTSD). Joseph states, "Rosemarie has been instrumental on the mental health side. It was very hard to find someone who specialized in PTSD but she was able to identify a provider who I've been seeing for several months now."
Rosemarie has been working with clients for more than 10 years. She understands the connection between mental and physical health and how individuals can struggle overcoming a traumatic event. She shares, "Helping people learn techniques to get over their personal speed bump or challenge is crucial to their long-term recovery."
Joseph's Outlook
The one-on-one support Joseph received helped improve many aspects of his overall health; both mental and physical. He is sleeping better and regaining his stamina. A former triathlete, Joseph is determined to regain as much of his abilities as possible and has recently embraced a Special Forces' fitness technique called "ruck marching." He also returned to work full time and—in his spare time—is working with his neighbors and community to make the intersection where his accident occurred safer for pedestrians.
Joseph appreciates how all the support he needed seemed to "click into place" without having to do anything. He emphasizes, "You wouldn't believe the extent and graciousness of care that I received. As a CareFirst member, everything simply fell into place when I needed it and they guided me along the process."