Kathy's Story
Twelve years ago while in her 30's, Kathy was diagnosed with rheumatoid arthritis (RA), a disabling autoimmune disease affecting the body's joints. In the years since her diagnosis, she has struggled with numerous health issues resulting both from RA and its treatment.
While there is no cure for RA, there are medications that lessen the symptoms. Many come with side effects, creating different health challenges. In Kathy's case, her RA medications caused diabetes, high blood pressure and cardiac issues that required the surgical placement of stents. In just one year, she suffered three separate heart attacks and spent a month in the hospital. Then, on January 31, 2015, she experienced a sudden cardiac arrest that would change her life.
Kathy suffered a massive heart attack during which she was deprived of oxygen for nearly seven minutes. She faced a daunting recovery—nearly 98 percent of those who experience this type of cardiac event never leave the hospital.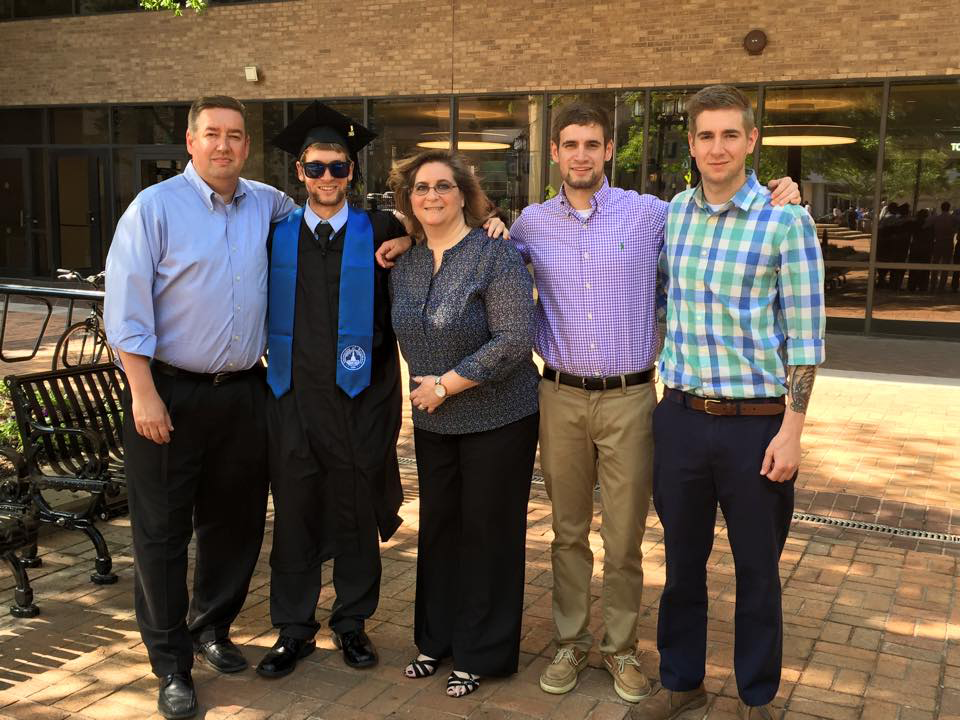 Kathy's Care Coordination Experience
Miraculously, Kathy was released from the hospital and began a month of intense cardiac rehabilitation. During this time, her husband, John, received a call from Kristy, a nurse with the CareFirst Patient-Centered Medical Home (PCMH) program. PCMH offers CareFirst members facing complex or chronic conditions the personal support of a registered nurse as well as a range of clinical programs and services.
Kristy explained how she could help coordinate all of Kathy's care and John immediately agreed to participate in the program. He recalls, "I recognized this was uncharted waters and having an advocate who could talk to all these different doctors for Kathy would be HUGE. I think she ended up in such a dire state because none of her doctors were collaborating about her condition; instead they were operating in a vacuum. To have someone pull these individuals together was a priority for me."
Once home, Kathy faced many challenges, including impaired vision, memory loss and trouble speaking—not to mention juggling visits with six specialists and managing over 20 different medications. John says, "Before the cardiac arrest, Kathy was doing the lion's share of everything regarding her care. I knew about the challenges but had no idea the scope and breadth of what she was managing on her own."
One of Kristy's priorities was to get Kathy's diabetes and blood pressure under control. She also identified a gym specifically for cardiac patients where Kathy could continue to improve in a safe environment. Kathy says, "I had to come to terms that I hadn't been completely honest or compliant with my doctors prior to the event. My nurse helped us work together to develop a recovery plan that was organized and maintainable and brought the help I so desperately needed."
To determine the cause of Kathy's heart attacks and help prevent future episodes, Kristy also referred her to the Expert Consult program, which provides a comprehensive second opinion from a panel of top physicians recognized as experts in their fields.
John says, "The expert consult was a ray of sunshine because you always want someone to take another look at you. To have a whole panel take a closer look at Kathy was incredibly helpful."
As part of the Expert Consult, an extensive interview is conducted with the member to collect their health history and a comprehensive report is provided that outlines the expert's recommendations. John remembers the report, "confirmed everything her cardiologist had done was correct and the treatments were on target." As for the treatment of Kathy's RA, the experts raised some questions about medications and testing that John and Kathy addressed with her rheumatologist. Although it was a "delicate conversation," John believes discussing the findings in the expert consult report has improved their relationship with the specialist.
Because of the number of medications she was taking, Kathy's nurse also referred her to the Comprehensive Medication Review program. Through this program, specialized pharmacists evaluate health conditions, medication regimens, potential hazards or interactions and whether the mix of drugs is as effective as possible. Findings are reported back to the member's doctor. Kathy's review identified a potential harmful interaction between two of her medications, prompting her cardiologist to discontinue one of them.
"I didn't know if I'd drive again, be able to cook, take care of myself or be there for my family. My nurse was our roadmap and support system. She did for John what I couldn't – helped him guide me back to health – and I am forever grateful."
Kathy's Outlook
Kathy's recovery has been tremendous and she hasn't spent a night in the hospital in over two years. John says, "She's enjoying the best health she's been in for nearly 12 years." Kathy also accomplished an important personal milestone—being able to drive again.
When asked how they would describe their experience with the program, John says, "If you don't take advantage of this program, you're robbing yourself. It would be like touring the Amazon jungle without a safari guide. I can't begin to put into words what having this level of support meant to our family and to Kathy's health...our family will be forever grateful." Kathy agrees, "Sometimes you have to have faith in the goodness of people and this is a program where that faith can be realized."