Russ' Story
Retired from a teaching career spanning more than three decades, Russ imagined spending his next chapter canoeing, kayaking and hiking. Everything changed when he suffered a stroke leaving him partially paralyzed, wheelchair-bound and requiring assistance for many of his daily living activities. His partner, Ceil, was also unexpectedly thrust into the role of primary caretaker.
When Russ changed primary care providers, both he and Ceil learned about CareFirst's Patient-Centered Medical Home (PCMH) program. PCMH's integrated support system of clinical programs, registered nurses and key partners offer a range of care coordination services to members living with complex or chronic conditions. Russ' doctor recommended he participate and take advantage of this one-on-one support.
At first, Ceil was reluctant to take part, recalling, "I thought it was just going to be another time commitment on my part and one more thing for me to do. Then I started talking to our nurse, Yvette, and realized what a resource and a help it could be; I can't tell you what a weight it was off my shoulders."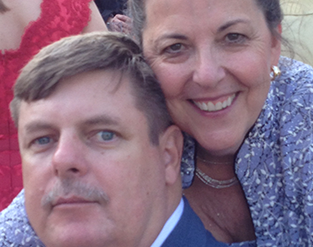 Russ' Care Coordination Experience
"To have someone help me find out what is best for Russ – the relief is so powerful."
Yvette's primary concerns for Russ were continuing his physical and occupational therapy. Knowing how important it is to have collaboration in the home environment, Yvette coordinated a home-based services assessment and home safety check. This assessment enabled Russ to have in-home physical and occupational therapy services as well as home nursing services. The home health agency nurses reported back to Yvette on Russ' progress and any additional requirements.
Krystal provided reassurance to Robert that he would get better and also coordinated important resources. She set him up with in-home enhanced monitoring for him to check his blood pressure and heart rate daily, with results sent to Krystal and his doctors. Having easy access to real-time readings helped Robert recognize when his symptoms would occur and helped his doctors make necessary adjustments to his medications. "Enhanced monitoring helps patients become more independent because these are important activities the member feels accountable for—they know we're reviewing their data," Krystal adds.
Since Russ is prediabetic, to help prevent advancement to type II diabetes and more weight-gain associated with limited mobility, Yvette helped coordinate continued physical therapy on an outpatient basis. The physical therapist is educating Russ on the types of physical activity he can participate in that are compatible with his current abilities. Yvette encouraged the couple's efforts to change their diets to incorporate more vegetables, fruits, lean meats and reduce the amount of sweets.
Speaking with Yvette every week has been particularly helpful to Ceil who is 100% involved in Russ' care. Yvette not only speaks with Russ weekly, she also answers all of Ceil's questions and has provided them both with action plans to follow in case of concerning or worsening symptoms and more. Ceil stresses, "Everything is always changing in our lives and Yvette is a lifeline to me. We talk every week so I can get the answers I need."
Russ' Outlook
Russ continues to make progress and had worked up to walking the length of the house on his own when a grand mal seizure caused a temporary set-back. His doctor assured the couple that seizures can happen after stroke due to scarring on the brain. Although Russ now takes antiseizure medication to help prevent another occurrence, Yvette educated them on what to do should he experience another episode.
Aware each day can bring new surprises; Russ and Ceil feel fortunate to have Yvette in their corner. Russ says, "Anything that can help Ceil is just fantastic in my book." Ceil agrees, "Just knowing Yvette is there has changed my whole attitude. It's someone to talk to who has expertise. I can call her if something comes up and that takes so much off of me and allows me to be better working with him. I am so appreciative of what CareFirst has done for us."
"…I'm having a hard time finding the words to describe how wonderful Yvette has been with us. She has truly been my lifeline during this time in our lives. Her coordination, researching support, and communication with us has been outstanding…"