Sandi's Story
Sandi, a CareFirst employee and member, remembers packing to go on a trip with friends to celebrate her upcoming 50th birthday. She recalls, "I was talking to my friend on the phone and the next thing I knew I woke up in the hospital two days later."
Sandi had suffered a grand mal seizure brought on by a brain tumor called a meningioma. She spent five days in the hospital before she came home to rest before surgery. While home, she received a letter from CareFirst nurse, Nancy, inviting her to participate in the case management program. Sandi recalls, "I didn't really know what to expect, but I was so freaked out by everything, I figured it couldn't hurt."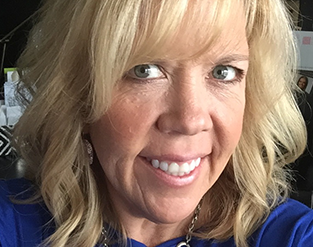 Sandi's Care Coordination Experience
"Absolutely participate. It was so reassuring to have someone to talk to. You can call the doctor's office but you always feel you're interrupting them... But with Nancy, for the 20 minutes we would talk, it was just for me and it helped me so much."
Through the program, case managers, all registered nurses, assist members facing critical illness or injury. Case managers have years of specialized experience in fields such as pediatrics, oncology and trauma. The nurses help members transition from an acute care setting to the home, identify and coordinate necessary resources and work closely with all treating providers on treatment plans. Sandi recalls the apprehension she felt when she was sent home from the hospital just two days after her major surgery. She says, "I had so many questions, tons of medication to take and was so anxious about everything…to some degree we might have felt better if I was still in the hospital!"
Sandi was relieved when she received a phone call from Nancy the day after she came home from the hospital. Nancy made sure Sandi understood which symptoms were normal and which to call the doctor for. She answered all Sandi's questions regarding her new medications and provided Sandi with a wealth of information about her recovery process. Sandi remembers, "She stayed on the phone with me for quite a while and made sure I had no additional questions or concerns."
For the next month, Nancy called Sandi weekly to check in on her progress and make sure she continued to improve and wasn't experiencing any issues related to her treatment or her health. Sandi says, "Nancy's one-on-one attention was invaluable to me after such a scary experience."
Sandi's Outlook
Sandi returned to work 12 weeks later with a clean bill of health. Though she will need to be monitored regularly, Sandi feels lucky she didn't require chemo or radiation.