Here are some tips to help you stay emotionally healthy:
Try to be with other people and confide in someone. It is usually better than being alone and secretive.
Do things that make you feel better. Going to a movie, gardening, or taking part in religious, social, or other activities may help. Doing something nice for someone else can also help you feel better.
Get regular exercise and a good night's sleep.
Eat healthy, well-balanced meals.
Let your family and friends help you.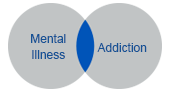 10.2 million
adults have a co-occurring mental health and addiction disorder.*
---
* This document cites statistics provided by the National Institute of Mental Health. www.nimh.nih.gov