CareFirst Logo
A high-resolution version of the CareFirst logo for use by media outlets can be obtained by calling 410-998-4389 or emailing logorequest@carefirst.com.
---
Brian D. Pieninck, President & CEO
CareFirst BlueCross BlueShield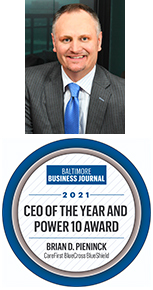 Follow us on Twitter to hear about our current CareFirst news.
Note: This file is zipped to eliminate corruption. WinZip is required to open the files and if you do not have the free software you can download it by visiting www.winzip.com.