Brian D. Pieninck Biography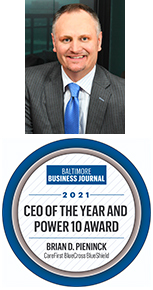 Brian D. Pieninck was named President and Chief Executive Officer of CareFirst BlueCross BlueShield in May 2018 and assumed his duties in July of the same year.
Prior to serving as President and Chief Executive Officer, Mr. Pieninck was CareFirst's Chief Operating Officer. In that role, he was responsible for overseeing the company's four Strategic Business Units (Consumer Direct, Small and Medium Group, Large Group/CareFirst Administrators, and Federal Employee Health Benefit Plan), as well as the company's Technical and Operational Support division. Mr. Pieninck joined the company in 2015, and previously served as Executive Vice President for the company's Large Group Strategic Business Unit and CareFirst Administrators. In this role, he was responsible for the strategy, business development, and operational services for CareFirst's largest and most complex commercial, state, labor and municipal customer segments. Prior to joining CareFirst, Mr. Pieninck was a member of Aetna's executive leadership team where he held a variety of positions of increasing responsibility during a 19-year tenure, including President of Southeast National Accounts, and most recently, President of the Americas for Aetna International.
Mr. Pieninck is a member of the boards of the Federal Employee Program Board of Managers, Special Olympics Maryland and the Economic Alliance of Greater Baltimore and is a member of the United Way's Tocqueville Society. He received a Bachelor of Science in Business Studies Business Administration from Southern New Hampshire University and is a graduate of Leadership Maryland's Class of 2016.