Ready to take charge of your health?
CareFirst has partnered with Sharecare, Inc.* to bring you a wellness experience that puts the power of health in your hands.
Your new wellness program provides a wealth of tools and resources, as well as easy-to-understand recommendations and insights that reflect your individual interests and needs—all tailored to help you live your healthiest life.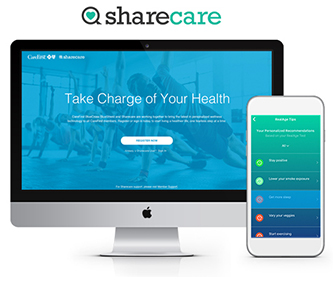 ---
To get started, you'll need to enter your CareFirst account username and password and complete the one-time registration with Sharecare to link your CareFirst account information. This will help personalize your experience.
---
Access these exclusive features whenever, wherever you want:

RealAge®: In just a few minutes, the RealAge health assessment will help you determine the physical age of your body, compared to your calendar age.

Challenges: Stay motivated to achieve your health goals by joining a challenge.

Personalized timeline: Receive content based on your health and well-being goals, along with your motivation and interests.

Health profile: Access your health data like biometric and lab results, vaccine information and medications, all in one place.

Trackers: Connect your wearable devices or enter your own data to monitor daily habits like stress, sleep, steps, nutrition and more.
You also have access to additional support to help you take on your wellness goals with confidence, like:
Tobacco cessation program
Quitting smoking and other forms of tobacco can lower your risk for many serious conditions from heart disease and stroke to lung cancer. Access expert guidance, support and tools make quitting easier than you might think.
Financial well-being
Learn how to take small steps toward big improvements in your financial situation. Whether you want to stop living paycheck to paycheck, get out of debt, or send a child to college, the financial well-being program can help.
---
*Sharecare, Inc. is an independent company that provides health improvement management services to CareFirst members.
This wellness program is administered by Sharecare, Inc., an independent company that provides health improvement management services to CareFirst members. Sharecare, Inc. does not provide CareFirst BlueCross BlueShield products or services and is solely responsible for the health improvement management services it provides.