Health Insurance for Those Retiring
You may be nearing the age for retirement and looking forward to enjoying this time. The last thing you want to worry about is your health care coverage. We are here to help you with a variety of resources providing you the information you need to select an insurance plan that is right for you.
MediGap - health coverage that fills in the "gaps" to standard Medicare, helping pay for medical expenses not covered by Medicare.
MediCare- a fee-for-service plan managed by the Federal Government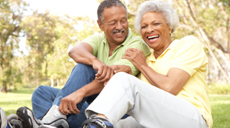 Other Individual & Family Plan Options
Need to Buy Insurance?
Details on plan options and pricing, helping you select the right plan for you and your family
Call: Contact a CareFirst product specialist at 410-356-8000 in Baltimore or toll-free at 1-800-544-8703
AskBlue
Information and pricing on Blues Plans across the United States
AskBlue Medicare
A tool offering information and pricing on Blues Plans across the United States for members who qualify for Medicare