Understanding Your Coverage Options
Your Coverage Options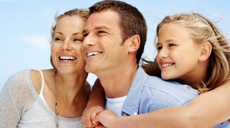 A change in your insurance coverage may leave you a little lost, trying to understand what individual and family options are available to you. You probably will have a lot of questions, and we want to be here to help you find answers to those questions — quickly and easily.
There are many reasons your employer/group coverage may change or end:
Work status change - from full-time to part-time
Loss of job
Age out of parent's insurance plan
High premium costs – looking to explore other less costly options
Retirement
In any of these situations you can begin exploring coverage options by looking into what is offered and asking yourself:
What is covered under each insurance plan option I am considering?
What is the cost of the coverage (premium, deductibles, out-of-pocket expenses)?
How does my medical history affect costs and coverage? (Medical Underwriting)
What does COBRA cover and what is the cost? (if losing employer/group coverage)
While looking into plan options, it is important to understand the main types of plans available to you, and the coverage and/or cost savings benefit each type of plan provides.
Option Types:
A high deductible plan - allowing you to pay only for coverage you and your family actually need
A comprehensive HMO plan for your children - offering appropriate coverage for children who typically require more doctor visits
Point of Service and Opt-Out Plan (POS) - providing all of the benefits of a HMO with access to out-of-network providers
Preferred Provider Organization (PPO) – offering you more flexibility with the physicians you choose and out of area services
COBRA – allowing you to continue your employer's health plan coverage for a specified period of time (some restrictions may apply)
Knowing what to consider when researching plan options can give you the confidence you need to choose an appropriate plan for you.
Decide on a Plan
Information, resources and frequently asked questions to help you compare, explore and understand insurance plans, their coverage and costs
Compare Plans
Information to help you summarize the cost and coverage benefits for each type of plan coverage
Understanding plan options and costs will help you select coverage to meet your health and financial needs.
Need to Buy Insurance
Details on plan options and pricing, helping you select the right plan for you and your family
Contact a CareFirst product specialist at 410-356-8000 in Baltimore or toll-free at 1-800-544-8703
AskBlue
Information and pricing on Blues Plans across the United States
AskBlue En Espanol
AskBlue Medicare
A tool offering information and pricing on Blues Plans across the United States for members who qualify for Medicare
Ensuring your doctors and specialists are covered under the plan you are considering will give you peace of mind.
Find a Provider
Check to see if your doctor or specialist is covered under the plan you are considering by using Find a Provider