Interested in wellness tips and great resources for living healthier? Sign up for our monthly health e-newsletter today.

Viewing and printing this document requires Adobe Acrobat Reader, which can be downloaded free from the Adobe site.
2014
Issue 3 - October 2014
2015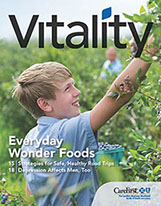 Catch up on your latest benefit information, recipes, wellness discounts, online resources and much more. View the PDF version or explore the eBook.
In this issue:
A New Way to Manage Your Health Care Costs
Strategies for Safe, Healthy Road Trips
Understanding Your Prescription Plan
Everyday Wonder Foods
Highlights from this issue:
Member Update: Learn more about your health plan including where you can get a flu shot, how to save on out-of-pocket costs and how to get your health plan questions answered.
Prevention and Screenings: Shatter myths about mammograms.
Health Management: Nix the added sugars after reading our Sugar Shock article.
Living Well: Discover 5 surprising reasons the scale won't budge.
Your Family: Trim down your TV time and more with these media diet tips.
Test Your Knowledge: Test your cholesterol IQ with our quiz.
CareFirst BlueChoice, Inc. (HealthyBlue*, HMO, Plus, Advantage, Opt-Out and Open Access)

CareFirst BlueCross BlueShield (PPO, HealthyBlue PPO and all other plans)

Issue 3


(8.3 MB,15 pgs)

Issue 3


(7.0 MB,15 pgs)

Issue 2


(4.0 MB,36 pgs)

Issue 2


(4.0 MB,32 pgs)

Issue 1


(3.8 MB,28 pgs)

Issue 1


(3.8 MB,28 pgs)
*HealthyBlue PPO members should refer to the CareFirst BlueCross BlueShield version of the magazine.