Research shows that most mental health disorders follow a developmental course that typically starts early in life. One in five children ages 13-18 have, or will have, a serious mental illness
1
.
Behavioral Health Services
As a parent, family member or caregiver to a child receiving behavioral health services, you may feel overwhelmed or confused about treatment options. We can help you find the right provider or if your child needs more intensive support, our specialty-trained and licensed behavioral health care coordinators can: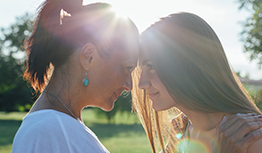 Create an action plan for your child and family
Navigate the complex behavioral health system
Explain treatment, prescriptions and potential challenges your child may face during treatment
Find local support groups and other resources for you and your child
Offer support and help for parents and caregivers for possible challenges including stress, depression or anxiety
Learn more about addiction or behavioral health conditions that affect children/teens and resources to help.

Get Support Today
If you or someone you know is in crisis, dial 988 or contact the CareFirst support line at 800-245-7013.
1Statistics provided by the National Institute of Mental Health. www.nimh.nih.gov